Pushpa Khanna Memorial Centre, Khalasi Line
Pushpa Khanna Memorial Centre, a Rehabilitation Centre for children with special needs, was established by NLK Group of Schools in the year 2017. The centre runs in fond memory of the great visionary and founder of NLK Group, Lt. Smt. Pushpa Khanna Ji.
Our mission:
• To empower kids with special needs through therapies, training & skill-building so that they can become an integral part of the society.
• To sensitize and create awareness in society so that it respects and provides equal opportunities to the people with special needs.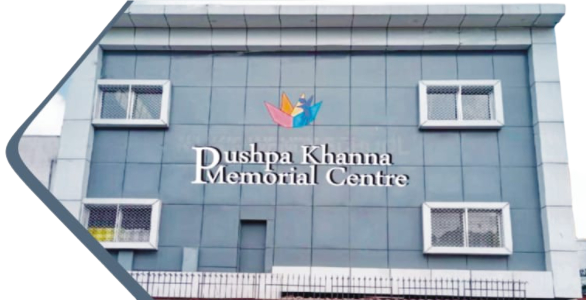 An interdisciplinary rehabilitation centre empowering individuals with special needs to reshape lives with dignity.
GOAL: TO PROVIDE EQUAL OPPORTUNITY & ACCESS TO ALL
Pushpa Khanna Memorial Centre, Khalasi Line

• 300+ sessions per day.
• Multispeciality therapy rooms.
• 10,400 sq feet of world-class infrastructure facility with ramps & lifts.
• Best pediatric physiotherapists with experience in India & Abroad.
• Highly trained & dedicated professionals.
• Located in the heart of KANPUR.
• World-class therapies all under one roof.
• Upto 100 percent off on fee for deserving candidates.

What our Happy Parents Say
---
PKMC is such an institution, which is probably blessed by God. Here you will achieve more than what you might have imagined for your child's development. I wish that this love and blessings of PKMC towards the children continue.

The Institute is a ray of light in the darkness. PKMC team is working like a healer for children. As a parent, I feel that PKMC is the second home for my Son. I am very positive about Son's progress in the upcoming months.

When my daughter was diagnosed with autism, both of us were worried about how to handle it. We did not lose courage and thought of fighting it together. I would appreciate my wife, who worked day and night to do the best she could for her child. There is a good doctor in my society who told us to go to Pushpa Khanna Memorial Center. The hope that brought us here, our search, was fulfilled here. It is commendable how hard they work for the children and pay attention to each child. I see improvements not only in my child but in all the children. Whenever I go there with my daughter, I observe that there is a positive development in all the children. I have been to many centers in different cities, but the enthusiasm with which everyone here strives for the children is priceless. Our city is lucky to have such a well-organized and well-managed Pushpa Khanna Memorial Centre in Kanpur. For this, I would like to wish all the teachers and staff of Pushpa Khanna Memorial Center and hope that they will continue to work hard with even better efforts because you all have a huge responsibility to our society. I would like to give a special thanks to Ruma Chaturvedi Ma'am who is providing world-class facilities to these children at very low cost and always gives special attention to each and every child and inspires her team...

Holy place for angels of God. Team of PKMC serves Special ability children to make them super human being to serve this society. Really an amazing place

This institution is a blessing for us and don't worry about your child they are in safe hands. Everyone who works over there. They are so down to earth and available at any time whether it is offline or online. They work so hard to enhance your child.

My son has grown tremendously since attending PKMC's Counseling programs. We use their behavior strategies often and they help to keep him motivated.

PKMC Kanpur has made a great difference in my child's behavior and confidence level. However, I wish they would have parent classes that are more practical and more convenient for parent's schedules.

Words can not express the care and compassion that I feel when I think about how "PKMC Kanpur" changed my son's life in such a postive manner. I love how much they love children despite their special needs.

It is such a great feeling to know that our family has found a unit for our "Special Child" that is so loving and supportive. Day by day, we have found a great change in our child. Thanks to PKMC for his excellent care!
Pushpa Khanna Memorial Centre, Azad Nagar
3A/161, Azad Nagar
(Near Tilak Chauraha), Kanpur
Mob. : 7311133337
E-mail : [email protected]